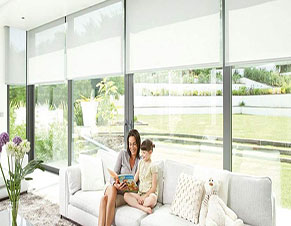 The electric actuators for interior curtains or blinds
Playing with the sunlight
Fabric, wood, aluminum, PVC or leather ... the choices are countless when it comes to interior blinds. Create atmosphere and lighting effects. Window covers also play an important role in your comfort and privacy.
What you need to know
The electric drives for interior curtains or blinds are easy to use and work smoothly to keep your window covers beautiful and long-lasting.
Rock Curtains, Romans or Horizontal Blinds ... The Choice Is Yours!
Role curtains
Roller curtains act as a filter of sunlight. Depending on the fabric you choose, they protect you from the glare or give you the ultimate darkness in your home.
Horizontal Blinds
Classical or modern, horizontal blinds offer a double benefit: they convert sunlight and protect your privacy.
Roman
With a wide variety of fabrics and colors, the royal blinds fit into all window shapes, enhancing your taste and the beauty of your room design.
Motorized indoor blinds
Life is a move!
Somfy mechanisms can be installed on all types of covers
Interior Window: Role Curtains, Horizontal Blinds or Roofs and Curtains Why could you install electrically operated blinds? No more cables or ropes that get confused! With a simple click, you can open or close your blinds with perfect fitting and alignment.
Somfy's mechanisms are also ideal for large windows and curtains that are located high or difficult to reach. The benefits of Somfy's interior louvers
The quiet Sonesse range
Ideal for indoor use
The "MY" function
Does it allow you to perfectly align all blinds with a central remote control?
The Somfy WireFree ™ line is 100% wireless
These autonomous devices operate with batteries or solar energy, with a battery life of 1 to 5 years, depending on the use ... You do not need an electrical connection to install the power louvers!
You are ready for a fully connected house with home-motion technology
Tips from Somfy
For more peace when the night comes
With TaHoma, you can program a function that closes your blinds automatically when the dark goes down and you just turn on the lights.
To protect against harmful UVA radiation
A light sensor on the front of the building activates your blinds whenever you want.
• The interior of your home remains cool.
• Furniture, carpets, and covers are protected from sunlight.