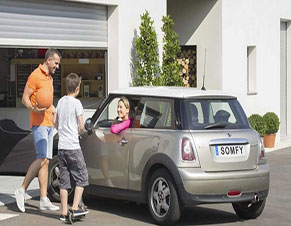 Garage, the second door of the house
You can do more than just park your car: storeroom, DIY construction studio and rehearsal studio!
The garage must keep pace with your needs and lifestyle.
Why turn the garage door into an electric motor?
Automate your garage door
Life is in constant motion!
Whether it is a garage door or a split, sliding or garage door, Somfy provides power-operated systems that are easy to integrate into new or existing garage doors, whatever type of door you choose.
Thanks to the motor, you no longer need to get in and out of your car! Use the remote control to get in and out of your home!
Which motor is suitable for my garage door?
The motor secured by chain or belt (quieter) to the rail is attached to the roof
Recessed motors are used for roller garage doors.
Smooth, trouble-free operation
They extend the service life of the garage door
Sectional opening
Allows pedestrian or bicycle access.
Automatic Obstacle Detection
The motor stops immediately.
Schedule automatic shutdown
After a set time.
You are ready for a fully connected house with home-motion technology.
Ability to run with a backup battery in the event of a power failure (except for the roller garage doors).
Tips from Somfy
Power-operated garage door, connected garage door!
Once the engine is installed, add a TaHoma device so you can handle your garage door from your smartphone and check that the door is closed to open the door to your neighbors and distributors, etc ...
Schedule the automatic closing of the garage door
Think of using a timer so you do not have to check if the door is closed before you fall asleep.
Innovation, services, guarantee ...
It offers much more than just a simple garage door motor!
Embedded Intelligence
• - The radiator motor adds a touch of intelligence to your home!
• - Once the first power-driven product is installed, everything can change.
• - Add a remote control or an automatic unit to synchronize your rolls with other Somfy products,
• Install the TaHoma device to manage your home through a computer, tablet or smartphone and more.
The best thing technology can offer
• - Somfy's electric drives are equipped with the latest technology: io-homecontrol®.
• - These devices are even safer with reliable radio technology.
• - Send you information so you can control what's going on without having to move.
• - They are used by larger homeowners for maximum compatibility.
The warranty you have from an international company
• - The products are designed in France at a Research and Development Center which is a pioneer in innovation.
• - The products have been tested and tested and meet the most stringent criteria to guarantee quality, performance and life expectancy.
• - They meet the strictest market security standards.