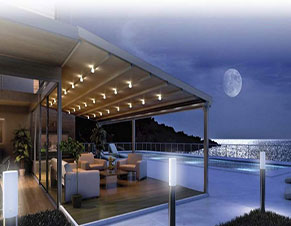 Install a mechanism in your veranda's shading system
Do you plan to install a shade system on the terrace? Think of putting an electric shading system now! Does your home already have a manual shading system? No need to change it. With Somfy, most shading systems can be converted to electrical after installation.
Why convert your shading system to electricity?
No other ugly, difficult handles, especially at 35 °! You can easily handle the electric shutters with a remote control, paddle or lower to the height you want within a few seconds and provide you with ideal shade and sunshine on your porch.
The + for the Somfy electric motors
Perfectly stretched cloth without wrinkle appearance
Maintenance of automatic settings.
Your shading system lasts longer
Gentle opening and closing.
You are ready for a fully connected house with home-motion technology.
Tips from Somfy
To be at ease when you are away
The wind sensor automatically picks up the simple shading system or the cassette shadow system when the wind gets stronger to protect your system.
For more comfort
- Think of adding a sun sensor. It downloads the shading system automatically to keep your living room cool.
Add lighting devices to your electric shutters to enjoy long afternoons on your patio.
Play with light and insulation
Play with sunlight
Fabric, wood, aluminum, PVC or leather ... the choices are countless when it comes to interior blinds.
As you create atmosphere and lighting effects, window covers also play an important role in your comfort and privacy.
Electrically driven interior blinds Life is a move!
Somfy mechanisms can be installed on all types of covers
Indoor Windows: Corner Curtains, Horizontal Blinds or Roofs, and Curtains
Why could you install electrically powered blinds?
No more cables or ropes that get confused! With a simple click, you can open or close your blinds with perfect fitting and alignment.
Somfy mechanisms are also ideal for large windows and curtains that are positioned high or difficult to reach.
The benefits of the Somfy interior louver
The quiet Sonesse range
Ideal for indoor use
The "MY" function
Does it allow you to perfectly align all blinds with a central remote control?
The Somfy WireFree ™ line is 100% wireless
These autonomous devices operate with batteries or solar energy, with a battery life of 1 to 5 years, depending on the use ... You do not need an electrical connection to install the power louvers!
You are ready for a fully connected house with home-motion technology.
Tips from Somfy
For more peace when the night comes
With TaHoma, you can program a function that closes your blinds automatically when the dark goes down and you just turn on the lights.
To protect against harmful UVA radiation
A light sensor on the front of the building activates your blinds whenever you want.
Innovation, services, guarantee ...
It's much more than just electric powered interior blinds!
Embedded Intelligence
• - The radiator motor adds a touch of intelligence to your home!
• - Once the first power-driven product is installed, everything can change.
•- Add a remote control or an automatic unit to synchronize your rolls with other Somfy products,
• Install the TaHoma device to manage your home through a computer, tablet or smartphone and more.
The best thing technology can offer
• - Somfy's electric drives are equipped with the latest technology: io-homecontrol®.
• - These devices are even safer with reliable radio technology.
• - Send you information so you can control what's going on without having to move.
• - They are used by larger homeowners for maximum compatibility.
The warranty you have from an international company
•- The products are designed in France at a Research and Development Center which is a pioneer in innovation.
•- The products have been tested and tested and meet the most stringent criteria to guarantee quality, performance and life expectancy.
•-They meet the strictest market security standards. rehau.etem.europa.alouminco@styletech.gr
Categories of Articles
Categories of Articles
Automation - Smart House
Chromatic window frames
Insulation - installation - application, and energy
Technical Support & Warranty
Vocational Training Certification