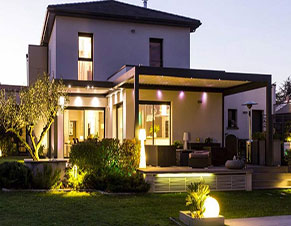 9. Turn lighting into fun ...with somfy
Turn lighting into fun ...with somfy
To get the most out of lighting solutions, there is nothing better than just control all your lights with a single remote control. And why not create lighting according to your mood or do not automate lighting for your enjoyment and safety?
With the remote control, you can connect them all and play with the lights for a plate. And thanks to radio technology, the wireless system can be installed at a time.
Connected lighting throughout your home!
Somfy gives you the ability to centrally control the lighting and other electrical devices that you control with just one control: shading system, home shutters, gates and so on.
Waiting for your friends?
Make the scenario on the veranda: At the touch of a button, the shade system lights illuminate, the garden lighting creates an atmosphere and the shade system goes down to protect you from the cold night air.
Are you leaving your apartment?
Implement the departure scenario: at the touch of a button, the lights turn off, the rollers go down and the alarm arming.
You can also enhance the security of your home:
- As soon as the alarm is activated, your lights turn on automatically.
You can turn your lights off your cottage and lift your rolls to make it look like you are at home.
Innovation, services, guarantee ...
Light, easy-to-use solutions
Place a small device behind the base of your luminaires, a remote-controlled socket, controlled lights on the porch and much more. Thanks to Somfy, you can easily handle all your indoor and outdoor lighting.
It offers much more than a simple lighting connection!
Embedded Intelligence
• - Lighting with radio technology adds a touch of intelligence to your home!
• - Once the first product is installed, everything can be changed.
• - Add a remote or an automatic unit to sync with other Somfy products,
• Install the TaHoma device to manage your home through a computer, tablet or smartphone and more.
The best thing technology can offer
- Somfy mechanisms are equipped with the latest technology: io-homecontrol®.
• - These devices are even safer with reliable radio technology.
• - Send you information so you can control what's going on without having to move.
• - They are used by larger homeowners for maximum compatibility.
The warranty you have from an international company
• - The products are designed in France at a Research and Development Center which is a pioneer in innovation.
• - The products have been tested and tested and meet the most stringent criteria to guarantee quality, performance and life expectancy.
• - They meet the strictest market security standards.