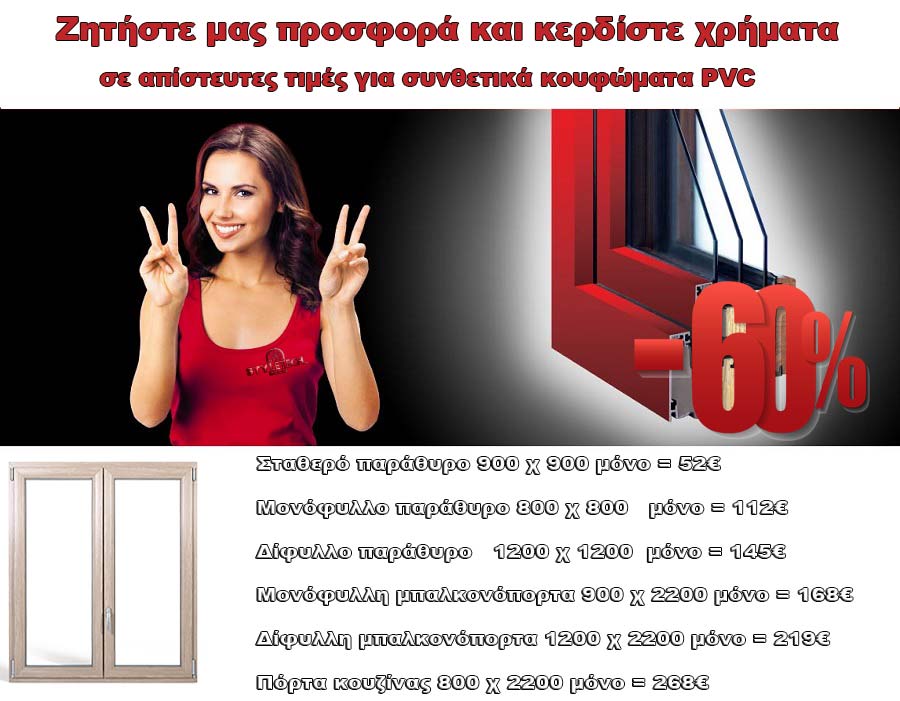 Replacement and refurbishment with synthetic pvc rehau.
Foor each option the price, is built step by step with the necessary components and materials.
For the final cost of a product, please send details to the following link
Description, Features, Certificates
The status of rehau pvc synthetic frames.
Waterproofing level 5A.
Wind resistance voltage С2.
Protective load rating class 4.
Weighted damping indicator34 dB.
Thermal permeability U = 1.37 W / (m2.K).
Air permeability class4
After years of experience in buying, manufacturing, installing and feedbacking customers, Styletech management has decided to offer the end user other finished products in high standard pvc frames - namely the 6-room rehau pvc system.
The rehau pvc profiles with 6 doors and windows synthetic in this series, offer equally better design, soundproofing, thermal insulation and better value for money.
In addition to its excellent thermal insulation properties, the Profiles Series rehau pvc is distinguished by the fact that it is very resistant to wind, rain, corrosion, moisture, dust and UV rays.
Specially designed drainage channels do not allow water to penetrate the rehau pvc profile and moisture and condensation.
Also, the rehau pvc series for doors and windows, entry ladies, and other constructions, are generally manufactured suitable for the construction of hospitals, schools, homes and office buildings!
Bet on quality, comfort and order in your home or office with the new rehau pvc system!
Rehau pvc, a series of new technologies in the development of the pvc system.
The new 6-room (rehau) pvc system is intended primarily for western countries but also for foreign markets - countries with a cold climate such as Ukraine, Russia, Moldova, Siberia and many more.
We can guarantee our customers an excellent quality rehau pvc profile, since before the series were carried out in many independent foreign market test laboratories samples of the compressibility profile, as this is an important factor for countries in colder climates. zones such as Greece, Cyprus, Portugal.
The test results gave the final approval that the new 6-door PVC rehau system is very suitable for such weather conditions and even experts recommend mounting such a profile, especially because the thermal insulation properties are excellent.
In addition, in the rehau pvc system, the compressibility coefficient of the profile was tested for high heat resistance at the Ift Rosenheim Institute in Germany.
Not all pvc windows are the same.
The differences in profile design have a huge impact on the technical properties of the window.
Production of pvc windows Rehau
Rehau is one of the leading manufacturers of pvc profiles in Europe for pvc windows, generally for windows and pvc doors.
The key components of the rehau pvc brand include modern profile systems, such as the geneo and synego system, the combined synego nl system and innovative products such as triple-static dry glass, rau fipro core insulation and an acrylic profile window.
As an innovative system manufacturer for pvc window and door profiles, Rehau offers innovative architectural view frames for pvc window manufacturers and architects.
The frames made by the latest generation of Rehau profile systems not only look attractive, but meet all technical requirements.
From heat and sound insulation the windows from pvc Rehau profiles are ultra-modern.
With Rehau pvc profiles even unusual window shapes are possible.
Pvc windows made of Rehau multi-chamber profiles ensure that heat and noise remain outside.
They offer perfect:
Sound insulation, Static, Thermal insulation, Surfaces, Bomb protection, Accessibility
In many window options such as:
total 70, brillant, synego, geneo, sol design, synego nl, slide synego, slide geneo..
Type of products rehau pvc
Windows
Front entrance doors
Closed and raised doors
Request a quote and save moneyat incredible prices for synthetic frames PVC
Good pvc rehau frames at low prices!
More dealson pvc frames at the lowest prices on the market!
Mail : info@styletech.gr