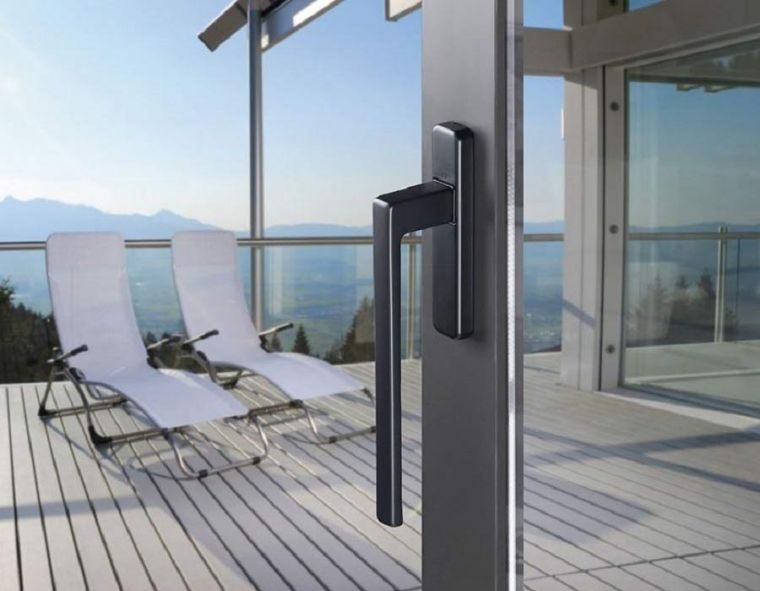 Handles - Knobs.
Styletech windows are fitted with Hoppe Secustik handles.
The Secustik security system allows the handle to only operate from the inside so that the window cannot be opened from the outside using another handle.
Hoopehandles are available in satin color or optionally in white, bronze or polished brass.
Why install safety handles on your windows.
Details
How many times do we neglect the security of our home? However, simple precautions would be enough to significantly increase security and reduce the likelihood of any burglary attempt.
To get started, you can simply install window handles in just a few steps. Regular handles that are not hoppe, roto, gu, are easy to break, a hole in the window is enough to allow thieves to turn around and easily enter our homes.
That is why it would be ideal to start by replacing the common handles with special handhelds by top hoppe, roto, gu companies.
What are the safety handles that STyletech recommends?
Security door knobsfor windows and shutters are used to increase the safety of components.
They differ from the usual handles in that they require two steps more to open them.
The presence of two passage ways makes opening by thieves using the hole technique much more difficult than ever, even impossible if the safety handle is fitted with a key.
The hole that can be opened on the outside of the frame allows you to quickly open any window with a single hole, it works very well on wooden frames, aluminum or PVC frames as it is easy to drill.
The piercing process does not cause any particular noises, so it is difficult to observe what is happening.
But what are the safety handles?
They are knobs with anti-intrusion systems for windows equipped with mechanical hooks.
The hook lock may be a button or button that prevents the handle from rotating by opening the window.
Security door handles are components that are included in the structure of burglary and intrusion windows, which in fact must be provided with information such as for the certification of armored windows.
Obviously there are several safety handle models to choose from in types, colors, durability, let's look at them together.
Windows with knobs with button lock
These are window handles equipped with a button integrated into the handle or base, which serves to prevent the handle or gear from rotating.
The two steps we discussed earlier in breaking trouble are: press the button and turn the handle.
The knob handles with its own key
The locked handles(knobs) have a lock over the handle in the center.
Once the lock on the door is locked, the handle locks to prevent opening.
You just have to turn the key to allow the handlebar to rotate again.
It is a highly secure windows application system with maximum security to avoid unwanted or dangerous windows openings and is widely used in public places such as schools and hospitals, where children or patients have access that could create a dangerous situation when opened. of the window itself.
Which knob model is safer?
The knob knob certainly prevents the handle from rotating, but if a thief tries to break into your home, he breaks the normal glass in the window and manages to squeeze it so he can even access the inside of the house.
In this case, the key handle is certainly safer than the normal knob, but you should always remember to remove the key from the lock every time you close the window.
How do I install a handle on the windows myself?
Door handlesmust be installed by a qualified technician to prevent window damage both aesthetically and functionally.
For this reason, it is good to rely on companies that, like Styletech, can not only do the job professionally, safely, but also propose the handle model that best suits your needs and in your windows.
Are the safety handles uncomfortable and stiff?
Certainly compared to simple knobs it takes an extra step to open the window with the consequent loss of a few seconds in the process compared to simple knobs.
It's a matter of practice and everyday life when you get your hands on the use you get used to soon and find it fantastic when you realize how safe it is to keep your home invaded and prevent children from opening their windows whenever they want and at risk to themselves.
Are the aesthetically beautiful safety handles?
They are no more or less beautiful than models without a locking system, some are less ergonomic and painted in colors that are not so pleasing to the eye.
It's all about choosing the model and color that you think is best for your windows.
Today there are many knobs and colors for all tastes.
Is it enough to place a safety handle on the window to keep the window secure?
Windows door handles are not enough to ensure complete protection of your home in the event of a breakdown.
However, it is a good starting point to discourage thieves from trying to force toys and access to your home.
They are much cheaper than a shielded door and do not need to replace the entire window and operate 24 hours a day.
If you want more security for your home, Styletech can help you with everything from door to window, it can provide you with everything you need to make your home impenetrable to any unwanted visitors.
Still full of doubts and embarrassments? Would you first like to know how much it costs to install safety handles in your home?
Express your interest and ask a question for further mail: info@styletech.gr
PRODUCTS CHARACTERISTICS:
Window and doors handles
I am interested about that Product
Photos