---
Lifted door window REHAU pvc
---
Product description and technical details:
The REHAU Brilliant-Design Lift & Slide door manufactured by STYLETECH has large glass areas thanks to profile design, providing rooms full of light and comfortable living quality.
Lift & Slide doors, by STYLETECH, are very stable and offer the potential for a variety of design and application options.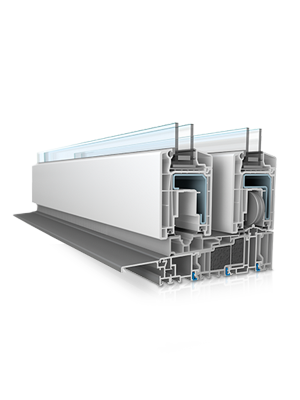 Even in difficult cases, based on openings and dimensions, doors from floor to ceiling, up to 10 meters wide, can be implemented thanks to their stable and high profile durability.
The profile design and the lower backyard provide a harmonious coexistence with an overall door impression, with everything from double leaf up to six to eight leaf.
This or the choice of frame and construction design make a sliding door provide the best protection from rain and water.
Even with winds up to 115 km / h and rain, it is not an issue for this system, supplementing with special glazing.
Tests also show that during the winter it stays in the warm and comfortable atmosphere.
This is achieved by special designs from STYLETECH, such as applications tested as the 4 chamber technique, applying the thermal threshold in many cases.
REHAU Brilliant-Design Door Profile, S785
Construction Section: 70mm
Thermal insulation: Uf = 1.0W / m2K (EN12412-2)
Soundproofing: Up to 42dB (DINEN 20140)
Air tightness: Class 4 (DINEN 12207)
Waterproofing: Class 9A (DINEN 12208)
Glass capacity: 8mm ~ 43mm
It also applies to all other sliding type profiles, by REHAU and manufactured by STYLETECH, as well as heavy duty pvc, Sliding Systems HauTau, Roto, Hebeschiebe-Türen providing the perfect insulation of a building.
Aesthetics, practicality of use and energy efficiency - these are the characteristics that the "envelope" of a building cannot leave.
With REHAU lift and slide systems from STYLETECH, for windows and facades, our customers can always rely on a high quality brand that is always cared for by our staff, lovingly and diligently, capable of delivering products that meet all requirements. specific requirements of each client individually.
Our offer as STYLETECH in this area is very large and varies:
From window systems, facades, sliding doors, small entrance gates, winter gardens and terraces, to blind roller shades and windows, windows and interior windows.
In addition to providing innovative solutions, REHAU and STYLETECH support high quality customer service at every stage of the project, from design to fulfillment.
For more product features please register your interest by clicking the button below!
PRODUCTS CHARACTERISTICS:
lift and slide rehau
I am interested about that Product
Photos