Exterior aluminum doors etem-europa
STYLETECH aluminum doors are custom-made through a design system that allows maximum freedom of choice from over six hundred and fifty product configurations, feasible by combining panels, components and typologies, such as fixed sides with light apertures, fixed or window openings for cleaning glass, secondary symmetrical door or asymmetrical, fixed or movable frame.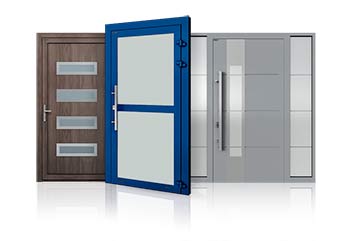 Apart from a wide range of accessories such as handles, buttons, rails and hinges, the unbreakable glasses that STYLETECH uses on its doors are of great importance.
Depending on your personal style and taste, you can create patterns and motifs, wall decorations using glass, satin, etching, sandblasting or painting.
The level of adjustment goes up to the coating that can be made of aluminum, synthetic pvc, laminate wood, or even solid wood.
Next to the design of construction, what makes STYLETECH entrance doors unique in their kind is the security they provide, certified by independent centers and companies like Dierre, Gardessa, Etem, Rehau, Europa, Alouminco.
STYLETECH retains the ability to install the old lock from the shielded system and provides the customer with new generation technologies for opening systems with the most up-to-date keys and bumpers with a unique card for each one.
Then you can choose fingerprinting with numeric combination, opening with intercom command, micro camera case, internal display and photo and video recording with motion sensors and LEDs. From the farthest point to our own factory you will be able to order the STYLETECH entrance door in partnerships.
Continuous control to which our suppliers are subject to providing products that have been created to withstand or door over time, mechanical connectors tested and proven that the material is always of excellent quality, electronics are guaranteed and handles withstand corrosion and all other parties adhere to prescriptions and standards.
The entrance doors of residential systems are certified according to the class of resistance to burglary, fire, thermal transmission and noise reduction. Check out some of the entrance doors and contact us for an excerpt based on the required measures.
The stylish collection of STYLETECH aluminum doors in cooperation with ETEM EUROPA REHAU ALOUMINCO is an attractive offer for the most demanding customers who appreciate modernity not only in terms of technology but also aesthetics.
The union of beauty and resistance to an element of the frames, next to which it is difficult to pass indifferent.
The rejection always accompanies the thresholds for the entrance doors offered by STYLETECH.
Whether it's a PVC or aluminum drain case, the role is the same: to remove the water drained at the door.
Door accessories bring more value and utility because they improve the overall appearance of the product. The lower case of synthetic or aluminum increases the usefulness and reliability of the product and is a weather-resistant material and applies a flat surface to the door.
In addition, the special lower case provides additional door protection and resistance to extreme weather conditions.
For more product features please report interest.
mail: exartimata.ylika.panel.sites@styletech.gr
PRODUCTS CHARACTERISTICS:
doors armored
I am interested about that Product
Photos