The ETEM-EUROPA aluminum interior doors
From the classical tradition of wood and creatures, for those associated with an ageless addictive flavor, to more minimalist and contemporary choices, with endurance beyond any precedent.
For this reason, STYLETECH has created different product lines in doors, grouped according to a similar aesthetic sense and that can satisfy the most diverse customer choices and the most minimal designs and ideas in studies for architectural applications and facades.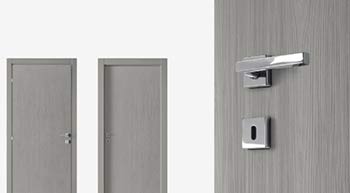 The aesthetics and structural choice of the interior aluminum door is dictated, as for the rest of the house, by the taste, taste and personality of those who live in it.
The choice of the model, either blind or permeable, from the possible matching type of glass, color (which may be the same or different between the two inner and outer surfaces) as well as the fittings, is critical to characterizing only the final aesthetic effect of the entrance door.
The Styletech ETEM EUROPA ALOUMINCO aluminum doors can be customized in different styles and colors and typologies.
Any kind of glass, PVC or aluminum panels can be used, provides unobstructed use with aluminum threshold application, can easily be incorporated into the old structure with easy support features.
The PVC input doors we produce are not only a design element, they operate reliably and provide protection against adverse weather and sound insulation.
They offer a long service life and a remarkable look with additional security options for thermal insulation and anti-theft protection.
Synthetic pvc STYLETECH doors are custom-made through a design system that allows maximum freedom of choice from over sixty-fifty product configurations that are feasible by combining panels, accessories and typologies such as fixed sides with light apertures, fixed or window openings for cleaning glass, secondary symmetrical door or asymmetrical, fixed or movable frame.
Apart from a wide range of accessories such as handles, buttons, rails and hinges, the unbreakable glasses that STYLETECH uses on its doors are of great importance.
Depending on your personal style and taste, you can create patterns and motifs, wall decorations using glass, satin, etching, sandblasting or painting.
The level of adjustment goes up to the coating that can be made of aluminum, synthetic pvc, laminate wood, or even solid wood.
Next to the design of construction, what makes STYLETECH entrance doors unique in their kind is the security they provide, certified by independent centers and companies like Dierre, Gardessa, Etem, Rehau, Europa, Alouminco.
Door accessories bring more value and utility because they improve the overall appearance of the product.
The lower case of synthetic or aluminum increases the usefulness and reliability of the product and is a weather-resistant material and applies a flat surface to the door.
In addition, the special lower case provides additional door protection, and resistance to extreme weather phenomena.
For more product features please report interest.
mail: exartimata.ylika.panel.sites@styletech.gr
I am interested about that Product
Photos