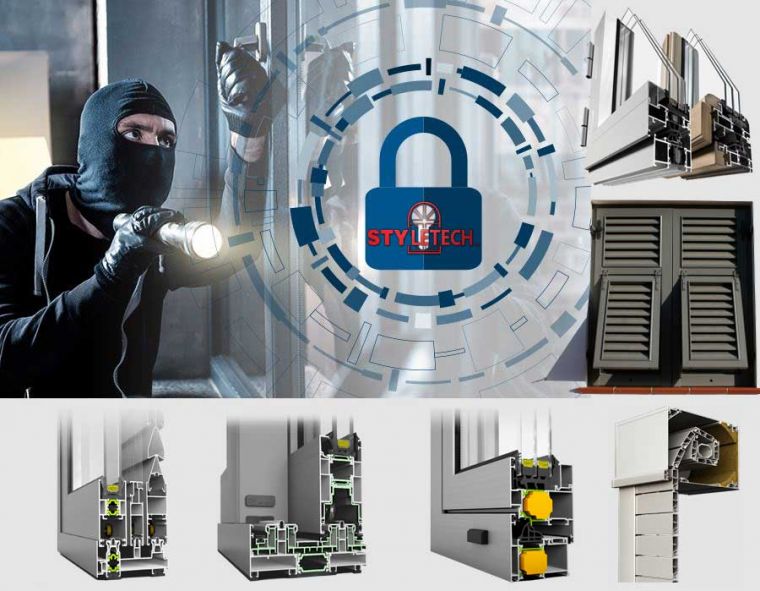 Protection against vandalism and theft with window frames
Anti-vandal series in shutters and doors made by STYLETECH.
Here at STYLETECH security we always try to add new products to our range to help, try and provide the best protection and quality of service for our customers.
Our anti-theft security doors, shutters, windows and doors are designed to complement our steel door series in new systems from companies such as ETEM EUROPA REHAU ALOUMINCO and to work perfectly in any building or kid application.
We have used our know-how and extensive knowledge of the market, in the know-how of the steel door, to help design this product and to introduce and enrich it with the products in our range.
Door and window shutters are made of better quality materials than the previous ones and offer much more security, knowing that all aspects of safety and design have been taken into account.
Glass panes are usually located on the outside of the windows and unlike other Anti Vandal measures and systems such as shutters, they do not generally need a building permit.
They can also be placed inside the windows in the same way on windows or doors as an alternative safety measure for the installation of fixed rods and collapsible systems to prevent burglaries.
There are two basic ways of adapting the frames to window glazing.
The plus glass must match the window and door frames so that the appearance of the property is maintained and the windows open normally.
The alternative is to fit individual shutters that open with stops, so there is plenty of space to open the windows to ventilate space.
Anti Vandal glazing is provided with black border frames and white frames, while other colored frames can be made available at extra cost where they fit.
Anti Vandal styletech.sa window glass is a framed and thin perforated hard material that connects to the outside of the glass to protect the glass from vandalism.
It will stop the penetration of anything material, from bricks, stones and even small missiles and other objects such as airbell beads.
From a distance, Vandal glass looks like glossy glass and improves privacy, and visibility is excellent with insignificant loss on the inside.
Anti Vandal styletech.sa Windows Glass is made of galvanized steel sheets 2.0mm with perforated dimensions of 4mm, the perimeters are completely enclosed in a frame made of aluminum or stainless steel sheet.
Anti-Vandal frames from STYLETECH and ETEM EUROPA REHAU ALOUMINCO.
STYLETECH offers a range of security windows, doors and sliding and open window frames.
Many installations experience security problems at some point or another, probably due to the nature of the products stored in the space or location.
Usually the entrance is through the weakest point, often a window or door, with simple energy or simple aluminum or pvc systems.
STYLETECH offers a complete range of doors and security windows in areas where windows, doors and masonry could be vulnerable to testing.
The anti-vandalism suite of STYLETECH provides protection flexibility for new constructions, renovation and existing vulnerable windows, doors, storefronts and glass panes, avoiding the hassle and distress to replace your damaged or stolen property, as well as associated insurance claims.
The ETEM EUROPA REHAU ALOUMINCO anti-vandal range is designed to enhance and complement the already extensive range of products and is designed to be aesthetically matched to a uniformly attractive appearance, for example, the STYLETECH security windows can be used on the most vulnerable floor which exists in each building, and STYLETECH windows and doors before the original design and on the floors above the ceiling slab, with a special application system.
Express interest through mail : info@styletech.gr or site: www.styletech.gr
The rest is our own concern to serve you with joy and happiness
we are confident that together we will find solutions to the problems that concern you and will now be of concern to us as well.
So simple.
A man who works with his hands is a worker. A man who works with his own hands and with his mind is a craftsman.
mail :iron.works@styletech.gr
PRODUCTS CHARACTERISTICS:
etem 2004
I am interested about that Product
Photos