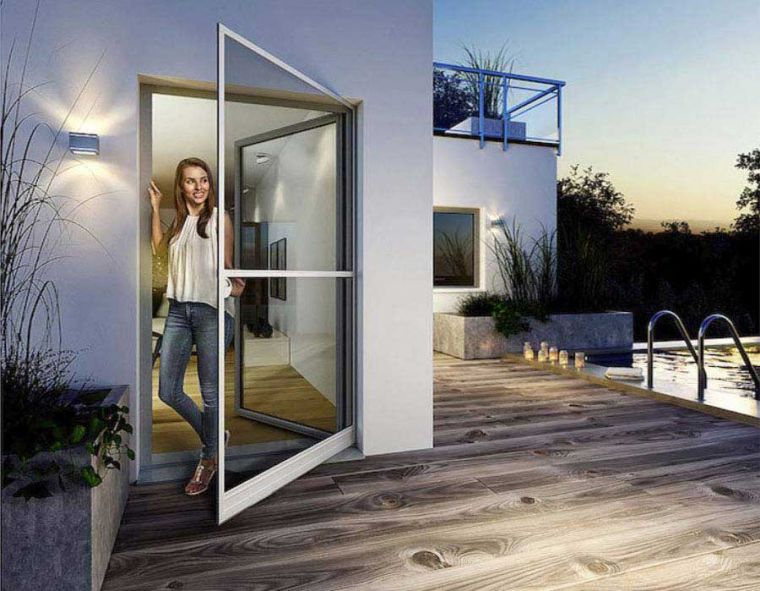 Mosquitos for Door opening type
Just boring mosquitoes and gnats everywhere, with simple mosquito bites, there are risks of infection and heavy contamination, and with spiders and other insects everywhere.
Doors at home, on the balcony and on the verandas are often vulnerable, where day and night areas have to be protected from insects during the hottest months of the year.
If you have doors and windows of a certain size or do not want to risk that the standard measures will not work well for you, then the most sensible solution is to choose a specially designed mosquito bite protection network.
In this case you should be very careful in taking the correct measurements of height and width of your doors and windows before selecting the model that suits you.
The different types of mosquitos kits available from STYLETECH are:
Fixed screen
It has an aluminum or wood frame on which to place the fabric of the screen.
It is suitable for small openings.
It is fitted with magnet brackets or plastic brackets.
Opening screen (door)
It is mainly found in door form.
It consists of the frame and the opening sheet.
The frame and sheet are made of either aluminum or wood.
Sieve roller for vertical or horizontal movement
It is the most used type of sieve.
Use mainly in open construction and rarely in sliding doors.
The manual form has a return spring.
The electric motor of the screen has an electric motor that you can control either wired or wireless.
Plisse window vertical movement
Its frame is made of solid '' P '' shaped aluminum.
Its fabric is not wrapped in an axis but it folds in a plisse.
This sieve has less visibility but more robustness.
Plisse Screwdriver with no guide for doors and windows
It is a plisse crawler screen with no guide down.
Its fabric is not wrapped in an axis but it folds in a plisse.
It does not collect water and garbage.
The lack of a lower driver makes the passage unhindered.
Plisse horizontal drive with low guide
Its fabric is not wrapped in an axis but it folds in a plisse.
The plisse type horizontal grid is primarily an option for balcony doors.
Screw Roller horizontal driver without driver
It is a blend of classic horizontal grid and plisse with no guide but with track.
Horizontal slider slider
It consists of one or two aluminum panels, single or double leaf respectively.
Rollers are placed at the bottom of each frame to move it.
Such sieve types are usually incorporated into more general types of constructions.
Seta superlative in the half opening of the frame
It can be used in door and window openings.
It is characterized by a slim profile ideal for space-limited cases.
It can be manufactured up to 4 sheets with rollers at the bottom.
mail: exartimata.ylika.panel.sites@styletech.gr
PRODUCTS CHARACTERISTICS:
mosquitos
I am interested about that Product
Photos