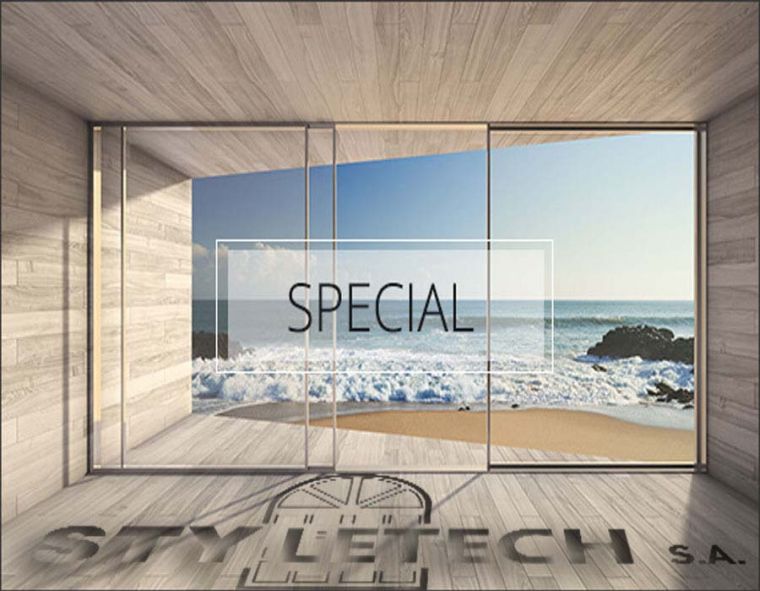 Sliding thermal break system

without visible frames with ETEM 78 MINIMAL
The new Etem E78 Minimal range, for large openings without visible frames.
It is a sliding thermal break system, the only modular design system that offers a wide range of construction options.
From fully boxed, with no frame at all, for new constructions up to application for hotel renovation, with minimal aesthetics and cost.
Modular philosophy reduces time and, at the same time, makes it much easier to place the system in the building with cost-effective benefits.
Etem new:
ETEM 78 MINIMAL ETEM buildings by styletech is an innovative, heat-insulated sliding system that allows more light on construction and thanks to its thin profiles, it has the ability to cover large openings without visible frames, while offering unobstructed view and exceptional brightness.
Perfect pioneering design
The ETEM78 has a special design with a wide range of design choices as it is fully encapsulated at the bottom of the guide, without the chassis at all, for minimal and demanding aesthetics.
The system is designed with all the solutions, both for new construction and renovation of existing frames with emphasis on large openings.
Versatility of construction & ease of fitting
The modular concept and philosophy of ETEM 78 reduces construction time and, at the same time, makes it much easier to place the system in the building, in any private or non-residential space, with similar cost benefits.
Visual refinement and harmony
The sheets of ETEM 78 meet oppositely, without distinction, different and different typology from the superposition.
Security and stability
The new Etem 78 system is locked up and down, providing greater security against tampering with the other frames of a corresponding product.
Technical details and characteristics of ETEM 78
Profile profile: Rectangular
Driver Height: 68 mm
Height of composite cross section & rainfall: 100 mm
Polyamide Width: 26 mm
Width of glass: 32 mm
Driver width: 206 mm
Double gauge width with gutter: 320,2 mm
Maximum leaf weight: 400 kg
Sealing material: Brushes & Foam EPDM
Number of locks: 2 per sheet
Mail: info@styletech.gr
PRODUCTS CHARACTERISTICS:
etem 78
I am interested about that Product
Photos