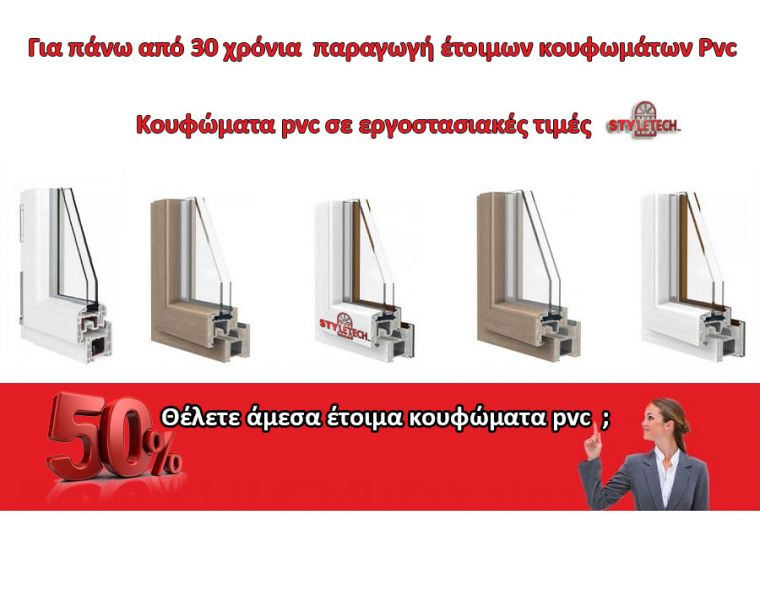 For over 30 years, Styletech has been a contractor and supplier
of options for homeowners and high-end construction companies around Athens, at home and abroad.
Thanks to the excellent ideas and the vast experience of our leader, Angelis Spyrou, our company continues to be on a very upward trajectory.
In addition to providing energy-ready aluminum and Pvc Rehau frames, high quality components and materials, we also provide special installation services at the best prices.
We install all kinds of PVC windows and doors, special windows and pvc doors for replacement and renovation.
If you want to install new windows or replace your old ones, do not hesitate to contact us or visit our offices at the factory and the exhibition.
Services & ready PVC frames:
Explore our range of 65 products:
Pvc window designs, and typology.
You will find a wide variety of branded aluminum and PVC frames, with certificates and references to the products on offer.
We already provide a 24-hour online fast service, but now we are able to make your own pvc windows on the same day!
Order by 8 am and we will prepare your ready pvc windows that day.
Available in ready-made pvc frames for you, with a variety of colors in pvc frames, only for clear glass, our special team will bring you windows faster than ever.
And if that's not enough for you, we are now able to offer even more colors for the Express pvc ready-made window service.
Order until 8am and we will prepare your doors in 48 hours, including hardened energy glass!
Talk to our team now to place your order at 210 2484454 or 210 6810040, and for more soon at mail: info@styletech.gr.
Prices in one supply with delivery from 1 to 10 working days!
All products on sale are also provided by the ready-made window delivery service at the buyer's premises without installation.
In three stages of ready pvc frames.
1- Pvc window supply options, Express Styletech.
Service in ready pvc window in color, white and silver
White and Silver window service
Ready-made uPVC windows made in 5 working days with each type of glass.
Available in the following standard colors.
2- Gold ready-made pvc window service.
UPVC windows are ready in 8 working days, if ordered until 10:00 am, with standard transparent glass.
Available in the following standard colors.
3- Ready-made pvc Platinum window service.
Ready-made uPVC windows made on the same day, stopping each production and at the appropriate cost, if ordered until 8 a.m., with infrastructure for standard transparent glass.
Available in the following standard colors.
Ready-made silver pvc door service.
Ready-made uPVC doors are made in 5 working days with each type of glass.
Available in the following ready-made colors.
Golden ready-made pvc door service.
The finished uPVC doors are made in 3 working days, if ordered until 9:00 with ready-made active glass.
Available in the following ready-made pvc colors.
Pvc ready door platinum service.
Ready-made uPVC doors are ready in 48 hours if ordered by 9:00, production priority and at a reasonable cost, with active glass.
Available in the following ready-made pvc colors.
24-hour fast service in all uPVC ready-made windows and 48-hour fast service for ready pvc door.
Are you frustrated with your current window and door supplier and your pvc windows in general?
We often hear from our new customers about ready-made pvc frames, the horror stories they tell us, and it's unfortunately a common problem.
This is why we are quite proud and unique in that we have our own factory where all the work is done on site and for each individual order, which allows us to offer a 24 hour process of making windows and pvc and aluminum doors.
Avoid, as usual, annoying delays in your construction projects by choosing Styletech, an immediate construction service.
Contact us today and see how easy it is to get the specially made, ready-made pvc windows and aluminum and uPVC doors for you quickly.
We can provide 24-hour pvc window support service and 48-hour door support service in Athens and throughout the country.
Do you want immediately ready-made aluminum and pvc frames?
There are many reasons why you need a ready-made pvc window quickly.
From not having received your original order to the wrong delivery of your pvc doors and windows (wrong dimensions, different typologies from the ones you requested).
Unfortunately, this situation can often lead to very embarrassing ways of dealing with and putting every customer in a dilemma about their choice, and obviously we don't want that.
That's why there is an 8-24 hour express service for ready-made frames.
Need a quick recovery on some of your orders? Our 24-hour fast service will satisfy almost all your needs.
Ready-made windows and uPVC doors (48 hours) are provided in a single day, with the service always being immediate and ideal for emergencies.
Inside, you may have been hit or damaged.
Commercially, a window may have been measured incorrectly.
Regardless of the problem, rely on selling the right windows to fix things with this quick and convenient option.
Our 24 hour mail service is a perfect solution to any problem.
Here at your Styletech, the 24-hour fast customer service ensures that ready-made pvc windows and aluminum and uPVC doors are usually provided within 24 hours, ready for installation and with all the accessories in our warehouse.
All our ready-made frames, windows and doors uPVC and aluminum, are made of genuine materials and orders from our team in the central warehouses in Germany and respectively in Greece are made with strict protocol.
In addition, the selection of glass by large suppliers at our factory in Athens, so that it meets all your wants and your exact specifications.
Ready-made uPVC frames can be designed, adapted to suit your property, available in a range of colors and finishes with incredible fidelity, in wood colors and ral colors, giving value to your frames.
As part of emergency orders, ready-made uPVC frames are available in colors such as white, anthracite, wood colors and gray.
If you are looking for new windows or doors quickly, contact us at info@styletech.gr today!
Keep in mind that if you are looking for doors within 48 hours, all orders must be placed by 9am.
This is required to allow the glass production process.
For an extensive list of areas we cover, click here.
Prices and offers
Thanks to our in-house production workshop and a well-stocked warehouse with thousands of accessories and many frames ready for delivery, we are able to guarantee high quality products in aluminum frames and pvc frames at factory prices!
When buying your own ready-made aluminum or pvc frame, it's important to think carefully about the type of frame, the glass and the quality of the full frame, and what level you want it to reach.
But there is of course the style of your window and whether it is suitable for your area.
That's why you need to choose your ready-made aluminum and pvc frames, after research and it is important to know exactly what you are looking for.
The style of each window and the ready-made windows in general should be combined with the style of your home.
That's why Styletech creates unique offers for each of you, your tastes always to your liking.
New opportunities and offers in ready-made aluminum and pvc frames.
Limited offers - as long as stocks are available
New data:
They are new products, state-of-the-art windows, available in limited quantities, and at certain production times.
Products ready, in aluminum and pvc frames, with immediate receipt (windows, shutters, interior and armored doors, etc.), made at the request of customers.
The products, either in aluminum frames or in pvc frames, are available in unique pieces and in the specified dimensions and finishes.
Shipping and assembly are excluded from the listed price that you will find in our catalog.
Product characteristics:
Aluminum and pvc windows, suitable for a 50% tax deduction, with double glazing and a typical aluminum or pvc balcony door with a bottom frame, with a special lowered threshold for entrance doors.
The windows are open for inspection by appointment.
The dimensions must be considered indicative.
Aluminum doors and windows and pvc ready for installation by you:
Techniques, means, accessories and materials required for the installation of ready-made aluminum or synthetic frames, secure doors, front entrance doors and soundproofing and thermal insulation windows and aluminum doors and pvc.
Are you thinking of installing ready-made frames yourself?
Do you want a perfect window for your home without spending too much money? Here is a guide with everything you need for a good and proper job.
If that doesn't work as well as you'd like, you can contact Styletech's best professionals to help you with the installation.
When is the best time to build and install aluminum and pvc windows?
We advise you to choose a day with good weather and heat to replace your ready-made windows and balcony doors.
In general, if you want to install your windows to restore an uninhabited house, there will be no big difference.
In addition to the coldest and rainiest days, you can install them - install them whenever you want, as long as all the specifications regarding the installation of the ready-made aluminum frames and synthetic pvc are met.
Materials required for the installation of Styletech pvc frames.
In this article we will focus on aluminum and pvc frames.
If you buy another type of prefabricated window that is available for example in large stores (without specialization in a specific type of product) many times you think it is the cheapest, but upon receipt you find that this window is not as it was presented to you.
Many times it is much lighter than our own frames and without any support after the purchase unlike us.
Is it really cheaper? NO!
The price is not cheap at all for many reasons.
The wait lasts about 20 days until it travels from abroad, it does not have the stability of the frames that are manufactured in Greece and above all they are not manufactured for our own weather conditions.
Thinking of the proverb "shoes from your place and let them be patched" by adapting it to us, the "frames from your place and let them be patched" apply.
Of course, for us the second part is not literal as you will receive them ideally and designed to last a lifetime in contrast to the frames of large commercial stores.
In the ready frames again and how to place them.
Among the colors commonly used for ready-made windows, we can mention the impressive colors such as: walnut, mahogany and cherry.
Tools needed to install our ready-made frames:
On an industrial construction level, heavy, bulky and expensive machinery is required, and a production line with all the necessities.
To us it is only for the production of many windows and doors per day and to make them available in the market in a reasonable time.
All you need to install your windows is the following tools:
Screwdriver, Screws, Terminals, Drill, Hammer, Pencil, Measure, Silicone, Silicone Pistol ..
With these tools and the materials mentioned above you can create, assemble and finally install simple frames.
Since these are tools for cutting and processing windows, they must be used with the utmost care.
The installation of ready-made aluminum and synthetic pvc frames by you can save you money and give you great satisfaction.
However, the risks associated with this type of work should never be overlooked and the work should always be done only by adults!
Get your ready-made frames and install them with simple steps:
If it is new construction, or renovation:
Draw the window,
Order,
Open the package, C
ontrol the measures,
Try the window,
Put silicone down
Post temporarily,
Tighten the window, Test
the window,
Screw the window,
Cut out the unnecessary,
Clean the window,
You are proud, well done!
If you are not 100% convinced that you can do this, go to the last sections of this article and learn how you can send a request to Styletech to find serious professionals.
Is it difficult to install ready-made aluminum or pvc frames?
If you want to install a small door with a sheet, without glass, this is a job of moderate difficulty.
When it comes to creating real glass doors, balcony doors and windows, you need technique and the ability to adapt to each type separately.
The construction and above all the installation of ready-made frames is not a game, especially without professional machines.
That is why we are not the only ones here.
Because we know every need you have, from the original design and construction detail, to the last moment of installation and subsequent support.
In addition to some special occasions, it is always best to rely on a professional to create ready-made doors and windows for your daily home use.
We make special wholesale prices for professionals, engineers and technical offices.
Mail: iron.works@styletech.gr
PRODUCTS CHARACTERISTICS:
ola se ena
I am interested about that Product
Photos