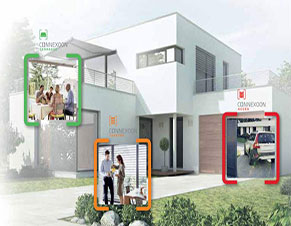 ---
Somfy Connexoon - Connected Home
Smart Home for connected moments of life!
---
Somfy is constantly upgrading and creating new solutions for a more comfortable and protected home. Discover Connexoon, the device that "connects" you to your products and experience the unique facilities it provides. By purchasing a Connexoon device, you connect it to the power and modem of your home, you select the application that you will activate and you are ready to manage them from your smartphone, wherever you are.
In the "Connect" function, there are 3 applications to control 3 different environments from the smartphone:
windows

outdoor (terrace)

access
EASY USE OF ABSOLUTE CONTROL
Manage the wireless shutters in your home, schedule presence scenarios, turn the lights on and off wherever you are. By pressing a button on your mobile phone, see the condition of the products in your home (eg closed shutters & lights on). Create the desired atmosphere on your balcony or garden by pressing a button on your cell phone. You can also see the status of your products at any time (open awnings, dimmed lights, etc.). Also manage your mobile phone port or activate the geolocation function so that it opens automatically as you approach your home, as well as close your shutters by going to work without delays!
Schedule scenarios that make your daily life easier based on time or via light / temperature sensors. Check the condition of your products and manage the remote ones.
Open the front door and turn on your lights as you get home, thanks to geolocalisation! The connexoon understands when you are approaching and gives the commands for you!
Create the desired atmosphere at the touch of a button. Lots of options to control the lights, awnings, pergolas and even your music from the connexoon.
By taking a photo, the connexoon "memorizes" the position of your products at that moment and you can restore them with one click.
Whether the weather changes abruptly or you don't remember if you left the lights on, check the status of your products with one click and manage them if necessary.
Awnings, pergolas, Philips HUE lighting, weather sensors (Sunis Wirefree + Thermis Wirefree)
Gates, garage doors, alarm, Philips HUE lighting
It only works with wireless products of Somfy io-homecontrol technology