Aluminum window and door colors: how to choose them:
Choosing aluminum colors for door and window frames means knowing how to combine design and technology, that is, two in one.
In fact, aluminum as a material allows you to create numerous finishes and shades of color thanks to the flexibility of the color combination it has.
The choice of aluminum frames is not just a matter of energy saving and sound insulation.
It is also a matter of style, appearance and architectural choice, design.
Frames should match interior doors, furniture, floors and wall colors, if not perfectly at least to a large extent.
They must also create conditions for light to penetrate and give depth, decoration, a pleasant note to our stay indoors.
With aluminum frame frames the available colors are multiple and varied.
Let's find them together.
Aluminum window and window colors: how they are made
The colors of the aluminum frames leave room for imagination and applications.
Aluminum, if we would like to identify it, is a chameleon-like material, which can be adapted to endless options and the most varied forms of furniture and architecture decoration.
Whether it's new state-of-the-art buildings with large glass surfaces or renovated old homes, renovations with aluminum frames, colors and finishes can be done in a variety of ways.
The main techniques for finishing a paint are:
• Anodizing paints: the metal naturally produces a layer of oxide which with this technique becomes less thick and porous.
• Electrostatic painting: is performed on anodized metal and special powders or liquid acrylic paints are used, and then in the passage of a special chamber with high temperature.
Thanks to many color options it is possible to color the aluminum according to current trends or by choosing the color that best suits your home.
The opaque glossy white frames on the aluminum frames are the most used to give light and depth to the spaces.
But it is possible to give the window example in the Aegean islands a touch of blue or a blue reminiscent of the sea or dark colors for a result of high technology and architectural choice.
With aluminum as a frame, it is also possible to create two-story frames that match the interior of your space and maintain the decor of your outdoor space.
And let's not forget the aluminum shutters or shutters, they are also available in one or two colors, different inside and outside the house.
Do you want the aluminum frames to have a shade and look like wood?
Come to Styletech, the specialist for aluminum frames and not only for Athens and its province, but also throughout the country.
Special paint for windows and aluminum doors with natural effect.
If, on the other hand, you are just looking for a sophisticated and sophisticated solution reminiscent of natural materials, then you know that it is also possible to create sandblasted frames, matte colors on windows, rough surfaces, metallic effect and wood color.
To create this type in the appearance of frames, door and window frames, powder paint is used.
This process combines together the processing of material to eliminate imperfections, the pre-processing of powder - powder and then the application of a special film that reproduces the grain or the imprint of wood, sandblasting or matte or glossy metallic effect.
Aluminum frames with imitation wood finish.
Aluminum frames with color imitation such as a wooden frame with style, are ideal for the most classic or sophisticated environments, where ancient materials such as stone and wood dominate, for an ancient and rustic effect.
Wood as a look and material goes well with metallic industrial style and gives warmth and lighting to the rooms of a house.
Aluminum frames with a look like wood, have very different colors, which reproduce the shades of wood found in nature: with different colors such as walnut, cherry, oak, Douglas, ebony and green.
Or a classic color of special choice: white wood with an effect for cottages or a rustic environment, without denying the brightness of the white color.
Old wooden shutters can also be made of rolls with aluminum foil to perfectly match the style of your windows.
At Styletech in Athens and in the countryside at the point of sale, you will find all the color solutions and ideas for aluminum frames available in the market.
Call 210 2484454 or 210 6810040 or visit it
Complete and wide range of colors for aluminum.
Ready-to-use aluminum paints with special emphasis.
Complete and wide range of colors for aluminum.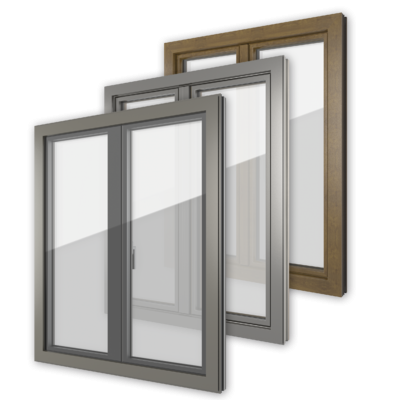 Not only are our favorite colors that give a striking look to the ETEM EUROPA ALOUMINCO frames made by STYLETECH, even the favorite shade in the special colors of the catalog!
With a choice of over 300 colors for modern, traditional, architectural or subtle aluminum surfaces, we offer you maximum freedom of choice in Etem Europa Alouminco Rehau colors.
Full collection in colors and many shades for aluminum surfaces.
Aluminum Frames Color
Below are the colors you can paint your windows, windows and doors.
This color chart includes colors of partner companies Akzo Nobel, Inver, NEOKEM.
The colors of aluminum frames are divided into 5 categories, generally in RAL, MAT, SPECIAL EFECT and in detail: RAL colors glossy monochrome, MAT monochrome colors, Metallic and Textured.
Dark green, brown, red, or metallic?
Is the shape of the profile series harmoniously combined with the architectural frame or is it in contrast to the overall appearance of the facade?
The choice is yours but we offer you:
Thanks to 300 colors - including 252 colors RAL - ETEM EUROPA REHAU ALOUMINCO from the collection or STYLETECH, it offers you a wide variety of solutions to improve aluminum doors and windows in real frame.
For each style the appropriate shape and color shade.
The surfaces of aluminum frames are always beautiful and valuable.
STYLETECH uses high-quality powder coatings in collaboration with leading companies such as Etem, Europa, Alouminco, Aloumil, Rehau, which always ensure a uniform coloring even in corners and along the edges.
Aluminum surfaces are durable and in difficult conditions at seaside.
Aluminum as a material is lightweight and at the same time very durable and extremely stable.
This material resists the effects of bad weather and maintains its original stability at a very satisfactory level, regardless of the color we will apply, even when the test temperature exceeds 540 degrees.
Even the profiles of windows painted in dark colors with special dyes are not subject to deformations when they are very exposed to the sun.
Aluminum window frames typically require minimal maintenance.
Aluminum painted windows do not require or require little maintenance.
No special treatments and details are needed, and we do not need to repair them unless there is a great deal of damage to the surface.
The outside surface of the frames does not attract dust or dirt, nor is it significantly affected by atmospheric drops, so with simple materials found in supermarket shops, you can also clean the surface with a cloth.