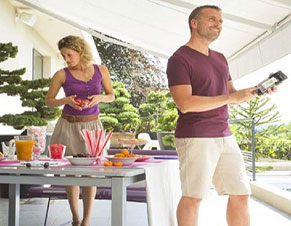 8.The good life on your porch
The good life on your porch
The pergola has many advantages. Open or closed, it is attractive and comfortable, more accessible than a patio and more durable than sunbathing ... allows you to enjoy your patio to the fullest.
Installation of a mechanism in a pergola
Life is in constant motion!
Whatever type of pergola you choose ...
Somfy has a solution for every kind of pergola.
Why do you have to install a mechanism on your pergola?
You can easily manipulate power-operated pergolas from the control device or the remote control. The shades are lowered, opened and can be adjusted when necessary to adjust the shade and sunshine as desired.
The + for the Somfy motors
Perfect, soft closing Mechanism and fabric hold more.
Adjustments are maintained, the electrical cloth is always fully stretched - Attractive design. - Helps drain water.
The motor stops if a barrier is detected The cloth and the motor stop.
The motor stops automatically when the fabric is stretched The machine is protected.
You are ready for a fully connected house with home-motion technology.
Innovation, services, warranty ... It's not just a pergola!
Embedded Intelligence
• - The radiator motor adds a touch of intelligence to your home!
• - Once the first power-driven product is installed, everything can change.
• - Add a remote control or an automatic unit to synchronize your rolls with other Somfy products,
• Install the TaHoma device to manage your home through a computer, tablet or smartphone and more.
The best thing technology can offer
• - Somfy's electric drives are equipped with the latest technology: io-homecontrol®.
• - These devices are even safer with reliable radio technology.
• - Send you information so you can control what's going on without having to move.
• - They are used by larger homeowners for maximum compatibility.
The warranty you have from an international company
• - The products are designed in France at a Research and Development Center which is a pioneer in innovation.
• - The products have been tested and tested and meet the most stringent criteria to guarantee quality, performance and life expectancy.
• - They meet the strictest market security standards.