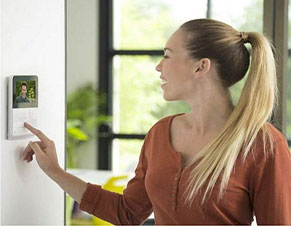 5.Door video - Smart House
Door video - Smart House
Who hits your door?
Choose an easy and secure solution. Even more complete than the intercom, installing a video door entry allows you to recognize at a glance anyone who hits your door or the front door.
How does it work;
Nothing could be easier! The video door entry system consists of two devices:
The internal screen
A color screen from which you can see who's hitting the outside doorbell, answering and opening the door.
You have control over opening and closing your electrical door or door.
In addition to their basic functions, Somfy's door operators can control up to 5 types of Somfy RTS equipment (gates, garage doors, shutters, lighting or other parts).
You create your functions. Before you leave the house, you can control your lights, shutters and the outside door in one go so that you are completely calm when you are away.
The outdoor boutonniere
This device allows guests to let you know they arrived.
It is designed to withstand vandalism and has rain protection, night vision, and key backlight. Depending on the model, you can even add recognition with your fingerprint so you do not have to hit the bell!