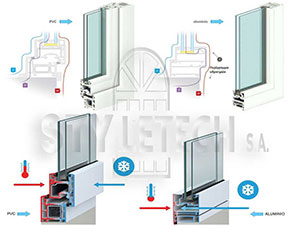 Why PVC Doors and Windows?
Hi, I'm Athena, Civil Engineer at STYLETECH.sa, and a few days ago, while searching the internet, I found several thoughts of this type:
If you buy windows from us we will give you 40 years warranty! Windows: ******** gives you 50 years warranty! do not buy PVC windows! in the same aluminum frames are more soundproof and heat insulating, and so on ...
PVC doors and windows provide perfect energy efficiency.
The hard PVC window frame is the best insulation material between today's and traditional window and door solutions in the domestic and foreign markets.
The table below compares the thermal insulation coefficients for aluminum, PVC and wood.
The lower the permeability coefficient, the higher the energy efficiency.
Indicative values ​​of insulation of windows and doors.
STYLETECH's window and door systems deliver the perfect balance between energy efficiency and comfort, combining with the perfect sound insulation they achieve.
Based on sample results, thermal and acoustic insulation, a higher level of security, color choices inspired by nature itself and greater security will give you a different touch and harmony in your space.
It is such an investment that will truly reward you and the environment.
PVC windows and doors compared to other windows require less maintenance.
STYLETECH offers a wide variety of hard PVC windows and doors to add style, security and value to your home. A durable STYLETECH window that requires less maintenance without discoloration provides a sleek and aesthetic look that lasts for 30 years.
Maintenance and care of PVC doors and windows is easy and effortless.
PVC windows and doors that provide incredible sound insulation.
Acoustic insulation and noise pollution are very important for today's noisy living spaces. STYLETECH windows and doors incorporate fuses of two to four rubber chamber joints that provide better acoustic insulation than those manually inserted. In addition, the existing features of hard PVC and the multi-chamber structure of STYLETECH products transform powerful capabilities in many locations with high traffic noise, resulting in perfect living spaces.
Best wishes,
Athena, Civil Engineer.