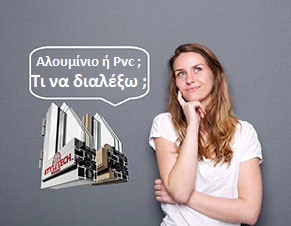 Aluminum or PVC: what is your choice?
.
Now that you have all the information you need, the best advice we can give you is to go to a professional only and request an aluminum window test piece and a pvc window test piece.
Always bear in mind, when it comes to the right frames, that their installation is another factor of fundamental importance, irrespective of the material you choose: the installation can further enhance the structural properties of the frames, or weaken everything and therefore only qualified technicians should ensure this result.
Choose the ideal solution that, with the same quality and durability, best meets your aesthetic requirements, practices and above all financial needs.
The important thing is to make the right and informed choice, consciously, to get the best deal for you, your home or office, without having to resort to additional interventions that could prove expensive.
Better finished PVC synthetic (plastic) or aluminum frames? Your ultimate guide from STYLETECH.
In this guide you will learn in a nutshell what the difference is between synthetic (plastic) PVC frames and aluminum.
Together we will see almost all the advantages and disadvantages of each window frame compared to each other.
We will talk about the perfect thermal, acoustic, mold and condensation insulation.
Read it through to the end, it will be useful with guaranteed results!
Are you ready to waste a few minutes helping to further the market for frames? Let's start!
First of all, and before reading, let me introduce myself:
I am Spyros, the owner of STYLETECH (a company with aluminum doors and windows and pvc synthetic (plastic) in Athens) and I work in the world of window frames. for over 35 years.
For some time now and even now, while wandering the web, I've read hundreds of comments on these questions:
Which windows do you say are the best?
Better to get PVC synthetic or aluminum windows?
Better thermal effect with aluminum or PVC?
Cheaper aluminum or PVC synthetic?
And many more related to buying the best brand name frames etem, rehau, europa, alumil, aluminco, aluplast, kommerling and many more.
For this very reason, and especially today, in this article, I want to try to dispel all the rumors on this subject, explaining very simply in a nutshell the difference between PVC, Aluminum and Wood and the relative advantages and disadvantages that we will come across buying some of these frames ..
Since this article is very long and detailed, I created a topic index so that you can easily navigate directly to the section you are interested in without having to read everything about aluminum or PVC composites (plastic) ).
Index of all topics
Aluminum frames
Cold-insulated aluminum frames
Aluminum frames with thermal insulation
Synthetic PVC frames
Wooden frames
So, what better way to explain PVC, aluminum or wood windows?
Cold-insulated aluminum frames
We exclude in advance the so-called cold-cut aluminum, which, as an aluminum metal, being one of the best energy transmitting materials, transmits the cold inside when it is cold outside and the heat when hot outside.
This means that if there are 0 degrees Celsius outside and 19 degrees Celsius inside, the cold will easily meet the heat and at the contact point (called the transmission point), which in this case is the window, the temperature difference will begin to form condensation and therefore mold on the inside.
Condensation simply behaves in the same way as a bottle of cold water, which is removed from the refrigerator and placed on the table, and this surface is filled with condensation droplets.
The aluminum cold window is not quite suitable for the construction of windows!
Everyone who has this window in the house knows something about it: they have a cold feeling, feel a little comfortable and well, they see condensation, mold on the walls, with quite a high consumption of heating and cooling.
If any rapporteur or manufacturer still recommends this material, our opinion is to get away!
In order to achieve thermal values ​​of at least permissible to a degree comparable to PVC or wood, the interior insulation of a frame must be very dense and consequently the dimensions of the window to achieve a result become more significant and affect the cost of materials and thus together with them and the final price
There are ready and commercially available aluminum insulated windows with minimal insulation which in terms of thermal value are not at all comparable to PVC frames and wooden frames.
Simple non-thermal frames cost less than hot frames, but it's like buying a Class B energy device instead of an A ++ energy class, meaning they consume much more.
If we believe from the results that our window will have an average life of 30 to 40 years, is it convenient for us to pay less now for something that will make us consume more for the next 30 - 40 years?
Here I want you!
Aluminum frames with thermal insulation
The fully insulated and waterproof and perfect aluminum thermal frame.
The STYLETECH Aluminum Thermal Performance Window is designed to help you enjoy your home to the fullest, even when it is cold outside or there is a lot of noise. Thanks to the patented installation of STYLETECH frames, double and triple coating and soundproof glass, the STYLETECH window ensures maximum and perfect thermal and acoustic insulation, allowing you to enjoy interior insulation.
Aluminum heat-insulated windows are manufactured by STYLETECH and KlimaHouse-certified solutions are available between types and installations.
Installed by a specific STYLETECH team only.
Conclusions.
Aluminum frames what?
You should know in general that we said that there are two types of aluminum frames: cold cutting and thermal insulation.
Wait, Spyros, what's the difference?
Cold-cut aluminum windows (ie most of the older traditional window frames) consist of a completely aluminum profile, without thermal insulation.
In the case of aluminum with thermal properties, however, an insulating material is inserted between the inner profile and the outer profile, always in factory conditions, which has the task of providing greater thermal insulation and less dispersion.
Energy-saving and therefore less costly with STYLETECH's hot frames.
If for some reason you haven't figured it out, don't worry at all, we'll deal with the subject better in the next chapter.
Synthetic (plastic) PVC frames
Synthetic PVC is a material that does not behave in a completely natural way, it is an excellent material for the manufacture of doors and windows because it is a natural thermal frame from the material with minimal heat transfer capabilities.
Um, wait Spyros, what does that mean?
Assuming there are zero degrees outside and normal means, if we touch the pvc profile outside it will feel cold but in our window the feeling will be warm.
There is no contact between heat and cold, so there is no condensation.
It is also very valid in acoustic sound insulation because the frame and door window are made up of several clearance chambers, which in combination with a particular selected glass prevent noise and external conditions from entering the home.
It requires virtually no maintenance and is very easy to clean.
It still has an excellent quality / price / life relationship.
Synthetic PVC frames are excellent, since they are manufactured and manufactured by specialized certified companies (NOT by a single artisan or commercial point of sale): specialized window frames with daily quality control and overseas laboratory testing certifications with all genuine materials and components they frame a window.
May I ask you a simple question?
Would you ever buy your child a toy or other item from abroad without certification? What security can this give you? How long can it take? What did you win?
The durability of synthetic PVC windows is decades, but beware! In order to last a time frame, the synthetic PVC material must be of the highest quality, guaranteed to be manufactured, with modern and innovative profiles, species-specific components, energy-efficient glasses and size-appropriate material.
The optical glasses must be anti-accident, ie triple and with thermal and gas conductor.
The insulation lath or corridor is the aluminum or pvc profile that separates the two glass plates.
It should not normally be aluminum, but in pvc thermal material, without major losses.
Non-thermal aluminum channel can never cause surface condensation.
Wooden frames
Like the PVC window, wood is also an insulating material and was traditionally used more for the manufacture of windows.
Let's break up in a nutshell the biggest fake myth that circulates in the wood.
Wooden windows do NOT require much maintenance.
The research of paint companies has taken many steps in recent years.
The latest generation of wooden frames with rubber in casings treated with eco-friendly water based paints are guaranteed for 3 to 7 years depending on the treatment cycle.
So don't worry, I don't just support our own frames.
What corrodes the paint on wooden frames is the powder that, wet from the water and dried by the sun, creates particles that have a very corrosive effect.
To prevent this from happening, you should keep the window clean and always use a specific product that nourishes and revitalizes the color repeatedly.
The 7 advantages of wood:
It is a good natural material
It is BIO material that is ecological
It is aromatic at times and warm to the touch
It is an insulating material with excellent thermal value in similar frames
Maximum production flexibility in both processing and exterior coloring
Can be externally bonded with aluminum to avoid further maintenance
Good value for your home disproportionate to money
So, don't we better delay synthetic PVC, aluminum frames or wooden windows?
If you've read the article so far and haven't got bored, you must have figured out what the best materials are between PVC, wood and aluminum.
Summary summarizing:
Cold cut aluminum windows inefficient: Absolutely NOT
Aluminum frames with minimal thermal insulation: NO
Extra-insulated Thermal Aluminum Windows: Absolutely YES
High quality synthetic PVC windows: Absolutely YES YES
Wood or wood / aluminum frames: YES with cost information
I created a simple graphic to make sure the differences between Aluminum, Synthetic PVC and Wood frames stay well in your mind.
Click the image below to enlarge and download!
Installation of frames
Everything I have told you so far about frames (thermal, acoustic insulation, etc.) is of no value and is useless unless there is a qualified certified installer at the base.
The window is usually half the work.
The installation of frames affects almost 70% of the actual performance of a good window.
A good window of your choice that is extremely efficient and costly window if it is not installed correctly is worth almost nothing, because the wrong installation that cancels all the certifications obtained from laboratory tests on this window.
In short, it's like buying a very expensive last-generation warm jacuzzi tub with great features and functionality and having it plugged in by a plumber who badly sticks to the pipes.
So what can we say about this equation?
Excellent product + poor installation = no function selected
Our expectations of the product we chose were offset by a poor installation of non-specialized synergies.
We return to our question again.
PVC or Aluminum Frame: Who Wins in the End?
The truth among us is that, in the same question as in other products, for example cars are not the absolute best, so for windows and doors, every car or material brand has features that make it more appropriate in certain situations than their competitor. what others and no one knows a priori before conducting your own "in-depth consultant interview, see analogous measurements, exposure (northwest-west) height of existing building, location and more that will help you in your decision.
With all this information you have obtained, a serious STYLETECH consultant will be able to advise you on what is the perfect window for you.
Conclusions
I hope in this article that I have clarified at least many or all of your doubts about the differences between aluminum frames and synthetic PVC.
If you need a qualified installer for the best results on your thermal or acoustic or security issues, ask for my advice.
You will find all my contacts on this page.
If, on the other hand, you need PVC or aluminum frames in Athens and everywhere in the area, or want to know how much they cost, take a quick look at our PVC and aluminum price fixing guide and request a free quote instantly and in great detail.
Best wishes,
Spyros H.M.P.T
Site : www.styletech.gr mail : info@styletech.gr