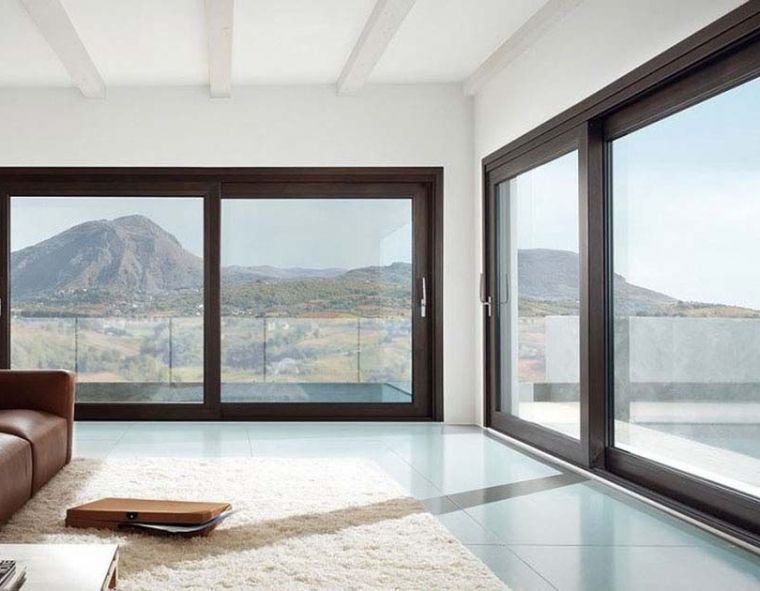 Rehau pvc, right choice - without compromising on the quality of the frames
BRILLANT-DESIGN - GENEO - SYNEGO Sliding Frame Systems - HEAVY TYPE LIFT
Large applications and equally large glass surfaces and bright interiors create a cozy and cozy atmosphere in every home or building and are now an integral feature of modern architecture.
In structures with special characteristics and large glass surfaces, the required stability and other characteristics such as sound insulation and anti-burglary protection must be provided.
With REHAU synego, geneo, brilliant-design frame systems on sliding-heavy lifts, you make the right choice - without compromising on the quality of the frames.
The guaranteed sliding system with a construction depth of 70 - 80 - 86 mm brilliant-design, synego, geneo respectively
Guaranteed as a system for heat insulated doors and windows and a wide variety of profile options, the Brillant-Design synego, geneo system is also available as a heavy-duty sliding system.
Whether renovating older buildings or new construction, systems are convinced with flexible application capabilities.
Properties of brilliant-design, synego, geneo systems:
Construction depth: 70 - 80 - 86 mm
Number of booths: 4 - 6 - 7 booths
Thermal insulation: Uf = 1.9 - 1.2 - 0.98 W / m²K
Thermally separated reinforcement and aluminum bottom
Sound insulation with energy glazing thickness from 34 to 44 mm
Burglar protection: up to resistance class 2 (ENV 1627)
Rainproofness / Permeability:up to Class 4 (EN 12207 / 9A
Advantages of brilliant-design systems, synego, geneo
Compatible with all REHAU systems and profiles
Leaf element width up to 10 m
High Definition Finishing (HDF): high quality, extremely smooth and therefore extremely easy to clean
Environmentally friendly material when recyclable
Applications of brilliant-design, synego, geneo systems
New and older constructions of high specifications and large dimensions
Flat, smooth transition from the interior to the balcony, terrace or garden
Possibility of use and combinations in patios and other constructions
Brilliant-design systems design, synego, geneo
Covered joints from specially formed folding lids
Variety of colors from the rehau caleidoscaffold, with two choices, either lacquered or lacquered
Gray tires inside out on white profiles, giving a special touch to the design of each frame
Elegant view of applications with 20 ° gradients in profile finishes
All of the above make these systems reliable and functional, where quality meets good prices.
Mail : sales.pvc@styletech.gr
I am interested about that Product
Photos