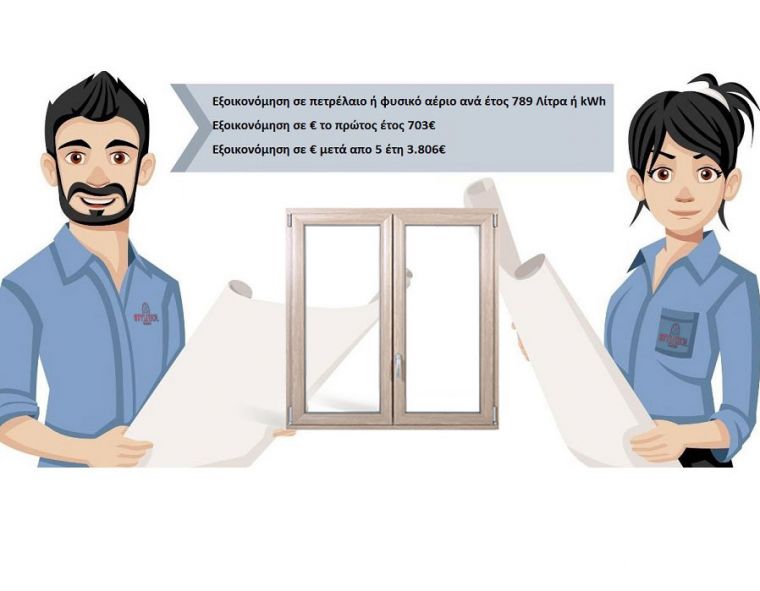 REHAU by Styletech energy saving meter
Very easily and in a few steps, you can calculate the benefits yourself with the third generation synthetic frames manufactured by Styletech.
Make choices based on real results and order the best frames for you now!
If you are building a new family home, remodeling or just replacing your old windows to improve energy efficiency or attractiveness, you may be among those who are still thinking pvc windows ξειokay we will say it… cheap!
Understandably, because many first-time customers tried to outperform aluminum windows with weak pvc clones, with air and water leaking, it was hard to open and close and came in a fascinating color - white that turns yellow?
Raw materials are mixed internally to ensure durability, energy efficiency and viability.
Most products are as good as the material used to make them, which is why the type of uPVC (polyvinyl chloride) used in every window and door system at REHAU is a top secret corporate secret. We mix all the raw materials internally instead of relying on ready-made preparations from external suppliers.
Pvc profiles have qualities that are not available anywhere else.
The high-performance uPVC windows from REHAU are not like the vinyl you may remember.
Good homeowner, builder and contractor, is a new era with REHAU windows and uPVC doors.
A pioneer in energy responsibility in Europe and then introduced to America 40 years ago, REHAU window and door systems set world-class standards in innovation.
This is when craftsmanship meets German engineering and American ingenuity, so let's get started.
Just like the kitchen staff at a fine restaurant, REHAU's "chefs" in our interior chemistry department are constantly testing and optimizing these compositions to meet the strictest standards.
I have 60 years of European design excellence with 40 years of ingenuity in the US market.
Pvc window and door solutions are widely recognized on both continents as an A-list option for demanding manufacturers, contractors, architects, developers and homeowners.
Lots of pvc style window options.
The style, shape, surface and color options provide architects, builders and homeowners with maximum flexibility.
A bold statement, yes, but REHAU's irreconcilable attention to perfection extends to every stage of the window and door ecosystem, such as DESIGN, MATERIAL, TEST, SERVICES and STYLE.
While other companies do one or even two stages well, none provide ALL THIS with the same level of measurable quality and unwavering consistency as REHAU, starting with design.
American ingenuity + German engineering = excellence in performance and style
Higher pvc window profiles.
The frame and leaf in the heart of each REHAU window system have thicker uPVC walls that make the product more durable and, in a REHAU discovery, suitable for commercial applications as well as for home applications.
REHAU became one of the first companies to introduce welded pvc window systems in North America in 1976, having already become a household name for mechanical value throughout Europe.
And while many of the first pvc synthetic window makers sacrificed quality for the price in the US market, REHAU made no compromises, never stopped pushing the boundaries of design and engineering.
Internal and third window tests.
For structural integrity, thermal efficiency, acoustic insulation, moisture resistance and ease of operation.
REHAU's internal design team supports customized applications, product improvements and new product development.
Custom design services include modifying existing window and door systems to meet the needs of architects or contractors in specific projects as well as regional disputes.
Up to triple and quadruple energy windows.
The glass infrastructure in the frames can accommodate up to three to four windows for maximum energy efficiency and acoustic performance.
The same sensitivity to market demand also translates into new and improved product development.
With a trained team of partners, the prototype of our designers tests and manufactures the necessary tools for the regular upgrade and expansion of the portfolio of pvc window and door products.
Mail : info@styletech.gr
I am interested about that Product
Photos