Production and installation of
internal doors
laminate
Wide range of interior and exterior aluminum doors, armored, synthetic pvc.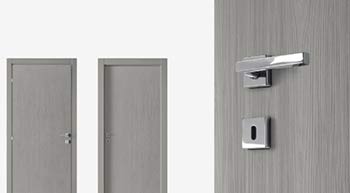 In today's reality, STYLETECH has at its factory a wide range of interior and exterior doors of different colors and designs capable of adapting to the demands of an ever-growing customer base.
From different PVC doors to those of wood and aluminum, shielded, the company will distinguish with you in addition to suggest the best combinations, giving each home a unique character.
With the ability to always contribute to the sophisticated comfort and the pleasure of living in every space, STYLETECH will offer you substantial and clean lines that can adapt to your space and best in any particular environment.
All this guarantees excellent thermal and acoustic insulation for every selection and material companies such as Etem, Europa, Rehau, Alouminco.
The partners on which they will rely and for their installation are always placed with our own workshops, the company will take care of the assembly, always ensuring the best interventions.
STYLETECH is eager to offer you the best solutions for every home, STYLETECH has a large selection of interior and exterior doors at the factory.
Of those from PVC to wooden doors, passing through the proposals in aluminum, armored, the company will only offer the best solutions in the field, also by assembling them.
STYLETECH, distinguished to offer the highest quality, has been established throughout Greece to recommend the best combinations with any home style you have.
For more product features please report interest.
mail: exartimata.ylika.panel.sites@styletech.gr
PRODUCTS CHARACTERISTICS:
doors
I am interested about that Product
Photos