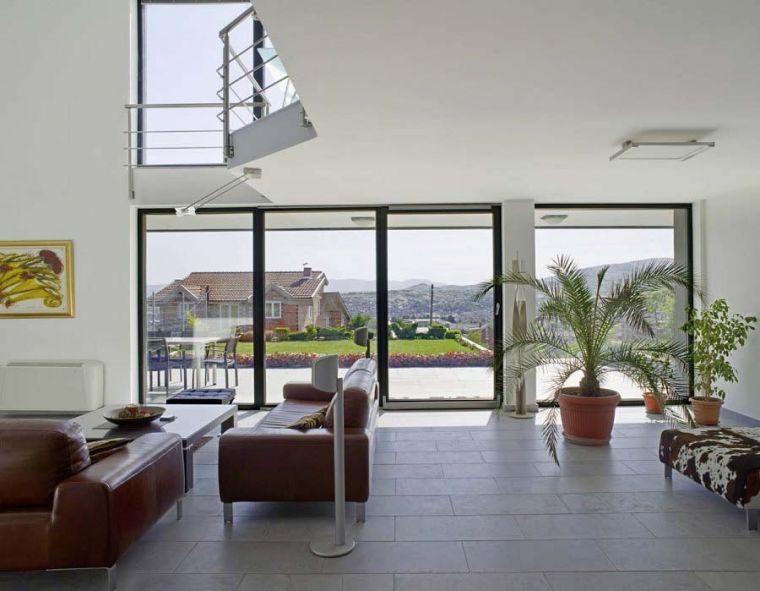 REHAU Doors and Windows RAU ‑FIPRO X
With an increased proportion of fiberglass profiles, by more than 45% to 50% in sheet profile, the rehau RAU ‑FIPRO Xis the best high performance material, with numerous capabilities that deliver perfect results, even more than the known advantages of rehau RAU ‑FIPRO with factor X translated:
X-tra large door and window elements
More light perceived, greater and modern architectural freedom, increased sense of well-being in every construction
X-tra high energy efficiency in windows and doors manufactured or STYLETECH by REHAU
Excellent thermal insulation, sound insulation and energy saving
X-tra numerous design and application capabilities
Maximum freedom of framing, with added security and ultimate comfort.
This material was developed for airplanes. Result: perfect for your windows.
The rehau with the RAU-FIPRO brought in 2008 once again the revolution in the market for frames, doors and windows in general.
The principle of profile applications with fiber reinforced composites - known up to now in the field of specialty construction, mainly from motor sport and especially aeronautics - has for the first time been applied to frames in general, in doors and windows, combining the best qualities in the test results, from the plastics and especially fiberglass sectors to create an innovative material with these characteristics.
Simply put, it's time now to continue writing the success story of REHAU RAU-FIPRO's incredible material and applications from STYLETECH…
10% larger items in frames
The new RAU ‑FIPRO X for doors and windows achieves the best possible light and visibility, thanks to a more than 40% to 50% higher proportion of construction fiberglass on the window and door panels and sets the stage for unparalleled construction. windows to date, larger dimensions.
Thus, with the new data, functional, beautiful and safe frames can be manufactured from the lowest height up to 2800 mm, even in cases as high as the floor and beam - without additional skylights and various constants.
This new rehau rau-fipro X material results in even more natural barrier-free light and greater architectural design freedom for unique comfort within the home or building.
Particularly slim in appearance but strong profiles increase all surfaces of windows and doors even more.
Up to 76% energy saving with synthetic pvc frames RAU-FIPRO X by STYLETECH
It has been estimated that 90% of RAU-FIPRO X door and window frames are made without additional metal reinforcement in the profile and thus avoid unwanted heat bridges from the beginning as compared to pvc frames.
Choosing the right glazing and in combination with triple or quadruple special insulating glass you achieve incredible ideal Uw values ​​of up to 0.58 W / m2K and, therefore, can be found to have energy savings of up to 76% with your frames.
Making the right choice now guarantees your subsidy
The new RAU-FIPRO X window profiles from RAU-FIPRO X manufactured by STYLETECH are certified by the Darmstadt Passive Buildings and Housing Institute.
All components of a building with this quality seal are generally two to four times more efficient than other standard products.
Therefore, subsidizing the windows for a home savings program is almost a purely proven and formal affair.
Up to 24 times less noise with your windows
Generally, noise means stress - and certainly no one wants it within its four walls.
With your new frames from STYLETECH with the company REHAU RAU-FIPROX we will achieve up to 24 times the noise reduction of your home and this will become an oasis of peace and tranquility.
With over 400 different designs and combinations
Windows and doors of infinite design such as circular, rectangular, derivatives, squares, decorated with or without carvings: the material from the RAU-FIPRO X can now be easily and accurately implemented even with the most demanding geometric window and door designs. for your new home, but also the most modern renovation.
Also, REHAU with the KALEIDO COLOR program offers you a huge free choice of color and design variations of your frames.
With a lot of ideas and inspiration this results in more than 400 design possibilities.
In cases where we want to have a double face of the frames, of course, we can combine different aspects of the interior and exterior of the frames.
Based on the design and depending on the desired appearance of the building and the surface structure, different treatments such as lacquer (KALEIDO PAINT) or self-coating (KALEIDO FOIL) are selected and used.
ENERGY STANCE AND SUSTAINABLE SUSTAINABILITY
With a sense of responsibility to the environment, the material undergoes cleaning, shredding, grading, refinement and is eventually reused in the inner core of new window profiles.
The old recycled windows create new frames, innovative and sustainable door and window systems - the same quality that all synthetic pvc REHAU windows are made of new materials.
In this way, and through systematic research and implementation, we are already achieving today and contributing to an annual reduction of CO2 emissions of up to 97,000 tonnes.
REHAU windows and doors from STYLETECH as modern as our lives
STYLETECH has set the goal of making applications, both modern general and special frames as our lives.
Frames and joinery applications that not only show us the world, but also provide fresh air while they are closed.
Smart Guard Control System:
Discourages and removes burglars before they are damaged
With the REHAU Smart Guard system, we take another step towards protecting our home.
Visual and audible signals emitted through your frames indicate to the perpetrator that he does not even have to try to attempt the burglary.
This active internal discourage system helps prevent door and window damage and a longer life.
And the ideal frames even discourage burglars, with their advanced security systems or STYLETECH before they attempt to attack your property.
Trust STYLETECH with the latest systems in building frames and beyond!
If you have any more questions? Please contact us. As always we will be happy to let you know what is best.
www.styletech.gr info@styletech.gr
PRODUCTS CHARACTERISTICS:
Excellent thermal insulation, sound insulation and energy saving
I am interested about that Product
Photos