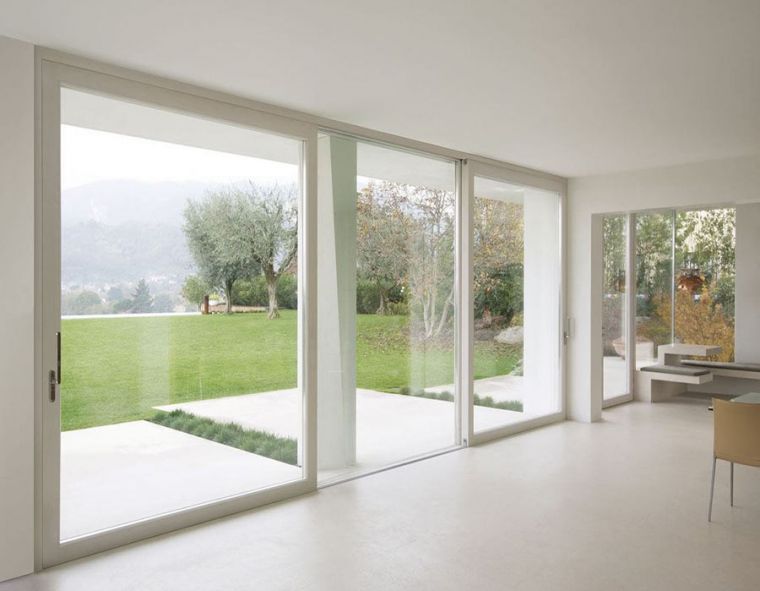 The new ESS 34 Hybrid Europa Aluminium system,
designed to offer solutions to a perfectly desired high thermal insulation and with incredible results (Uf = 3.12 - 3.68 W / (m2K) heat transfer coefficient)
The ESS 34 Hybrid sliding thermal insulation system was designed with high quality and flexibility.
ESS 34 Hybrid Europa offers a variety of construction options that fit it into the systems that meet most requirements.
It has guides for all possible sliding typologies in 42 and 32mm height, as well as hook profiles with a visible surface of only 25mm.
ESS 34 Hybrid Europa feature that gives a simple, minimal design, unobstructed view and uniqueness.
At the same time, with the use of specially designed ESS 34 Hybrid Europa profiles, it is possible to build frames with large dimensions that can reach 2.6m in height and 10m2 glass surface.
BASIC CHARACTERISTICS OF ESS 34 Hybrid Europa
• Use stainless steel plate or aluminum profile on guides for smooth rolling.
• Profile design in straight lines ESS 34 Hybrid Europa.
• Ability to install multiple locking mechanism for maximum security.
• Plastic (PVC) driver cover to insulate and protect them from water.
• Elastic (EPDM) or foam guide for sealing drivers in superimposed and recessed.
• Ability to use "anti-bi-metal" polyamides in the system profiles to eliminate distortion and contraction distortion.
• Possibility to install double glazing up to 24mm for high levels of thermal insulation and sound insulation.
• Three glass leaf options on the lock side: simple, with a handle for greater resistance to stress or with a slat.
• Two levels of water drainage (to the outside of the window), for better drainage of the driver.
• Possibility of combination in the Europa EOS 60 Hybrid for complex constructions.
CONSTRUCTION TYPOLOGIES ESS 34 Hybrid Europa
• Suitable ESS 34 Hybrid Europa.
• Recessed ESS 34 Hybrid Europa.
• Single-leaf-Double-leaf in external stable.
• Complex constructions ESS 34 Hybrid Europa.
• Sliding with fixed ESS 34 Hybrid Europa.
TECHNICAL CHARACTERISTICS ESS 34 Hybrid Europa
Aluminum Alloy: EN AW 6060 T6
Hardness: 12 Webster
Minimum paint thickness: 75μm
Profile thickness: 1.3-1.4mm
Dimensions tolerated according to: EN 12020-02
Supervisor guide width: 91mm (two sheets)
Driver's width: 95mm (glass-screen-shutter)
Glass sheet thickness: 34mm
Glass sheet glazing thickness: up to 24mm
Polyacid width: 20 to 24mm
Frame Thermal Transparency Factor: Uf from 3.10 to 3.70 W / (m2K)
Maximum sheet size (LxW): 2.3m x 2.5m
Maximum leaf weight ESS 34 Hybrid Europa: 200Kg
Mail: info@styletech.gr
I am interested about that Product
Photos