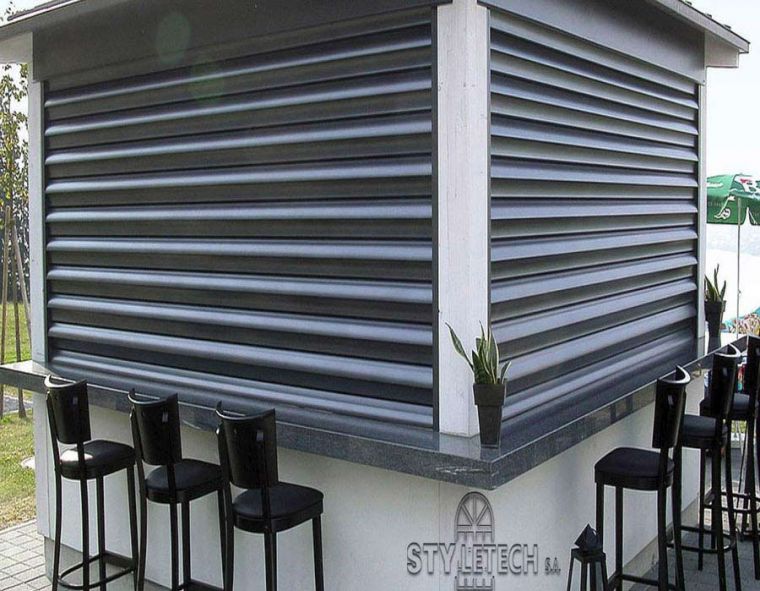 Heavy-duty metal security rolls.
STYLETECH.sa, since 1996, designs, manufactures, distributes and installs metallic and heavy-duty aluminum, safety shutters for industries and large openings, shopping venues and homes all over Greece, and beyond.
We have always, equipped and specialized our own garages, many years of experience and we guarantee the correct installation and operation of all our products.
STYLETECH also represents large and large exterior firms in special doors, roof, special opening, split in various forms, as well as fireproof products, garage doors, drive mechanisms, automation of any kind, and similar products with them.
Our products are always designed with a primary focus on safety, operation, durability, stress and harsh operating conditions, always under our guidelines for the proper operation of these special products.
We continue to have a normal 24-hour service, 365 days a year, to great needs and to any problem, be treated and feasible.
We have a complete warehouse, spare parts for all our product range.
If for some reason you already have a product of another company installed, we can offer you our services for maintenance and repair on a case-by-case basis after project analysis.
We always have the best relationship of triple quality - consistency - price, for all products, accessories, and our services.
Payment options, regulations and facilities always close by.
For more product features please report interest.
mail: shuters.rola@styletech.gr
PRODUCTS CHARACTERISTICS:
shuters
I am interested about that Product
Photos