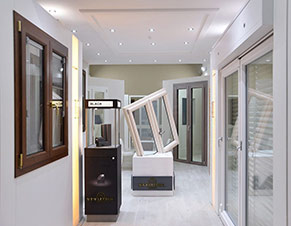 In STYLETECH.sa you will find aluminum frames, U-PVC composites according,
depending on the needs and requirements of your space
Here you will find:
Aluminum Doors and Windows, Iron Doors, Synthetic PVC, Security & Shielded, Third Generation Energy Glasses, Various Dimensions Screens, Roller Shutters, Glazing, Building Fittings, Shades, Roofs,Doors inox and aluminum, office partitions, garage door automation.
Window Pvc and Aluminum STYLETECH
Aluminum Frames and Synthetic U-PVC and requirements of your space.
The machining is done with state-of-the-art machines and our manufacturing skills in windows, balcony doors, arched windows, entrance doors, and kitchen doors have no limitations.
We are certified manufacturers of leading domestic and European companies such as Etem, Europa, Rehau, and other companies, and we offer individual frames as well as package packages for window frames. I also save on apartment renovations and not only.
We manufacture aluminum rolls, U-PVC rolls, all types of screen, armored doors, interior doors, kitchens, and wardrobes.
Special wholesale prices for professionals, engineers and technical and estate agents. Choose collaboration on two levels:
Offer bids along with placement
Bidding packages with maximum discounts with delivery without placement.
If our proposal coincides with yours, we will be able to serve you best in two steps.
The rest is our concern to serve you with joy and we are sure that together we will find solutions to the problems that concern you and will now be of concern to us as well.
So simple.